November Branch Meeting
Readers Theater
by Cecilia Rogers


The Select Sorority, Act II
Tuesday, November 14, 2 p.m.
Hesse Park, The Fireside Room 
Learn fascinating information about first ladies Lucy Hayes, Francis Cleveland, Helen Taft and Edith Wilson.
Please remember to bring up to three books for our Book Exchange. You may take home as many as you wish.
---
HOLIDAY HAPPY HOUR
Friday, December 1
4:00 p.m. – 6:00 p.m.
Joanie Gale's Home
2405 Via Sobrante, PVE
---
Branch
Awarded National Five Star Recognition Again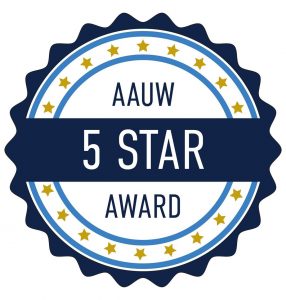 Our branch has received a second AAUW national 5-Star Award! The award highlights the work that our branch has done in 2022-2023. The program is based on a set of specific requirements established by national. We were so pleased with our 5-start status last year that we determined to try for 5 again. Click HERE to view additional information about Branch achievements that earned this award. 
The Palos Verdes Peninsula branch of AAUW advances equity for women and girls through advocacy, education, philanthropy and research. Click HERE to read more about us.
---
AAUW DEI STATEMENT 2023 –

United We Stand
In principle and in practice, AAUW values and seeks an inclusive membership, workforce, leadership team and board of directors. There shall be no barriers to full participation in this organization on the basis of age, disability, ethnicity, gender, gender identity, geographical location, national origin, race, religious beliefs, sexual orientation or socioeconomic status.